Public Safety
CMC Technology Group provides the latest, most advanced security products and technology in the industry. 
Request a Consultation
CMC & Consolidated
Communications
Security products involving telephony, public address systems, secure entry, call recording, and mass notification are critical to any business, municipality, or educational institution.
Public Safety Applications
CMC Technology Group understands that concerns for public safety and fast response in the today's workplace extend not only to your staff but to your customers, students, patients, and visitors alike. CMC is experienced in meeting these challenges by providing the latest, most advanced security products and technology in the industry.
Security Matters
In today's unsettling world, secure and reliable business communications play a key role now more than ever. To help your business to remain compliant with current safety and security regulations, CMC Technology Group provides state-of-the-art voice, data, and video security solutions to facilitate a safe and secure working environment.
Video Surveillance – Advanced, scalable, indoor-outdoor network camera systems to monitor, capture, and archive recorded video. Monitor your premises onsite and remotely using a mobile app with alert notifications.
Mass Notification – Cutting-edge solutions to improve network-wide communications, security, and real-time emergency responsiveness across your organization. Support for mobile device notification and event triggering ensure activation of alarms, lock downs, E-mail, SMS or text notifications, telephone, and public address announcements to provide people with critical information based upon their location or proximity to a security incident.
Public Address Systems – High-performance one-way or talkback overhead paging, announcements, or music using a variety of indoor-outdoor speakers and multiple page zones. Support for recorded and scheduled announcements with alerts and emergency tone generation.
Call Recording – Allow managers to improve their customer's experience and internal operations while keeping your business within regulatory compliance. Seamlessly capture, archive, organize, playback and sharing of voice and screen recordings. Help monitor, analyze, and enhance your organization's individual and group performance.
Secure Entry Systems – Secure your business' assets and facilities using innovative card readers, door contacts, and motion sensors to restrict and document access to only those with authorized entry credentials.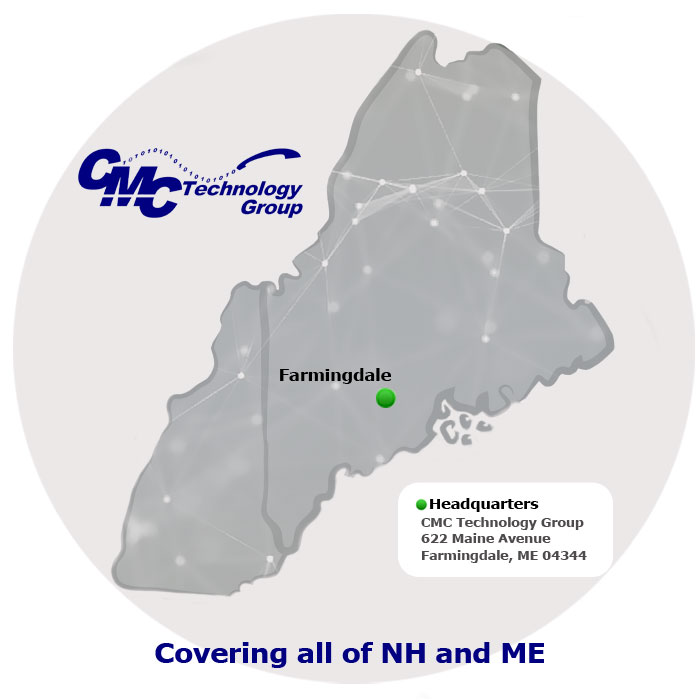 CMC Technology Group
622 Maine Avenue
Farmingdale, Maine 04344